Commendation Awarded by Consul General of Japan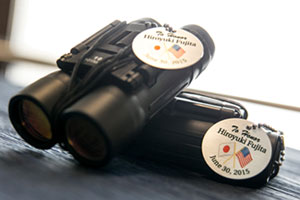 Consul General of Japan in Detroit Dr. Kazuyuki Katayama awarded a commendation to Dr. Hiroyuki Fujita for Dr. Fujita's contributions to the local economy and his civic and business leadership.
Kazuyuki Katayama, the Consul-General of Japan for the region covering Michigan and Ohio, presented the commendation to Fujita at an event in Dr. Fujita's honor was held in Cleveland, Ohio at the Terminal Tower in Public Square on June 30, 2015.
"We are honored to have the opportunity to recognize Dr. Fujita for his work and many accomplishments," Katayama said in a statement. "He embodies the spirit of partnership between the Japanese residents of this country and the communities where they live, work, invest and serve."
Dr. Fujita is the Founder, President and CEO of Quality Electrodynamics (QED).  QED has been nationally and locally recognized for its remarkable growth and success.  Dr. Fujita is active on the national and international stage, serving two terms on the U.S. Manufacturing Council and also recognized by Nikkei Business Magazine in their list of the Top 100 Most Influential People.  He is on several local boards including the Cleveland Clinic, the Cleveland Orchestra, the Cleveland Foundation, among others.