Dr. Hiroyuki Fujita, Founder and CEO, Quality Electrodynamics
Chief Technology Officer, CT-MR Division, Canon Medical Systems Corporation (CMSC)
Honorary Consul of Japan in Cleveland
Dr. Fujita's 20-year career history illustrates his exceptional technical and professional expertise in Magnetic Resonance Imaging (MRI) technology development and productization.  His cutting-edge research experience includes MRI radiofrequency (RF) coil research and coil product development for major global original equipment manufacturers (OEM) which, when combined, capture the majority of global market share in MRI systems. Dr. Fujita is the author of 17 patents and has published more than 40 technical papers and abstracts.  He serves as Adjunct Full Professor of Physics, Department of Physics, and Radiology, Department of Radiology, School of Medicine, at Case Western Reserve University in Ohio, and Adjunct Full Professor, School of Information Technology and Electrical Engineering at The University of Queensland, Australia. Dr. Fujita is a Senior Fellow of the International Society for Magnetic Resonance in Medicine.  Dr. Fujita also serves as the Chief Technology Officer for the CT-MR division of Canon Medical Systems Corporation (CMSC).
In 2018, Dr. Fujita was appointed as Honorary Consul of Japan in Cleveland by the Embassy of Japan and the United States Department of State.   As Honorary Consul, Dr. Fujita will protect the welfare of local Japanese residents and promote cultural exchanges in the region where the Government of Japan has no office established.  Expected responsibilities include, but are not limited to, supporting Japanese-American companies and various cultural activities hosted by the Embassy or Consulate General of Japan.  His northeast Ohio jurisdiction includes the counties of Ashland, Ashtabula, Cuyahoga, Columbiana, Erie, Geauga, Huron, Lake, Lorain, Mahoning, Medina, Portage, Richland, Stark, Summit, Trumbull, Tuscarawas, and Wayne counties.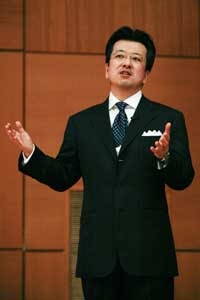 Dr. Fujita is a frequent invited lecturer at various institutions, organizations and conferences for national and international audiences. In addition, he published his autobiography, "A Pathfinder" from Shogakukan, Japan, in October 2013.  Dr. Fujita attended Waseda University in Tokyo, Japan and completed his Bachelor of Arts in Mathematics and Physics at Monmouth College in Monmouth, Illinois. He received his doctorate in Physics from Case Western Reserve University in Cleveland, Ohio. 
Dr. Fujita founded Quality Electrodynamics (QED) in 2006 and by 2009 was recognized by Forbes Magazine in the Top 20 List of "America's Most Promising Companies" and granted the Ohio Governor's Excellence in Exporting E-Award. In 2010, Dr. Fujita received the Industrial Manufacturing Ernst & Young Entrepreneur of the Year Award, Northeast Ohio, and also received the Outstanding Recent Alumni Award for Exemplary Professional Achievement and Service to Case Western Reserve University.
In recognition of growing an impactful, high-tech manufacturing company in the United States of America, President Barack Obama and First Lady Michelle Obama invited Dr. Fujita to be an honored guest and sit in the First Lady's Box at the 2012 State of the Union Address. Dr. Fujita received the 2013 Presidential "E" Award for Export from the U.S. Department of Commerce for QED's' significant contribution to the US Export Expansion program.  In 2019, QED earned the President's "E Star" Award for continuing US export growth for another four consecutive years.  Dr. Fujita was named one of the most influential 100 people for Japan in NIKKEI Business, January, 2014. In 2015 he was named Case Western Reserve Radiology Alumnus of the Year and also received the Consul General's Commendation from the Japanese Ministry of Foreign Affairs for his contribution to enhance the relationship between Japan and the United States of America.
Dr. Fujita's commitment to community is reflected in his participation and support of numerous community boards and committees.  Some of the institutions he does or has supported and their missions are cited below.  Mouse over each icon to learn more.
Cleveland Council on World Affairs
Dr. Fujita sits on the Board of Directors and supports the Council's initiatives in his role as Honorary Consul of Japan in Cleveland.
The Cleveland Foundation
Dr. Fujita sits on the Board of Directors at the Cleveland Foundation, northeast Ohio's largest non-profit charitable organization. He chairs its Governance Committee, is past-chair of the Finance committee and currently sits on its Grantmaking and Community Engagement Committee.
The Musical Arts Association
Dr. Fujita sits on the Board of Directors of the Musical Arts Association, the governing body of the Cleveland Orchestra. He sponsors visiting musician and conductor, Mitsuko Uchida as well as the Cleveland Orchestra's 2018 Suntory Hall performances in Tokyo.
Global Cleveland
Dr. Fujita sits on the Board of Directors of Global Cleveland, a nonprofit organization dedicated to attracting international newcomers to economic and social opportunities in Cleveland and Cuyahoga County. Dr. Fujita has been a frequent speaker at numerous Global Cleveland conferences.
Greater Cleveland Partnership
Dr. Fujita sits on it's Board of Directors It is the largest metropolitan chamber of commerce in the country and Northeast Ohio's premier economic development and business advocacy organization supporting collaborative efforts to boost the economic vitality of the region.
Great Lakes Science Center
Dr. Fujita formerly served on the Board of Directors. The Great Lakes Science Center's mission is to make science, technology, engineering, and math come alive with the vision to encourage a community that values STEM to inform decision-making and enrich lives.
Hawken School
Dr. Fujita served on the Board of Directors at Hawken School from 2011-2017. Hawken School focuses on their students' development of character and intellect, and forward-focused preparation for the real world.
Cleveland Clinic - Hillcrest Hospital
Dr. Fujita serves as Chair of the Cleveland Clinic Hillcrest Hospital Board of Trustees sits on its Quality, Safety & Patient Experience Committee. Hillcrest is a member of the Cleveland Clinic Foundation's network of community hospitals.
Department of Commerce - US Manufacturing Council
Dr. Fujita served two terms on the U.S. Manufacturing Council for the U.S. Secretary of Commerce, sat on its U.S. Tax and Export subcommittee and co-chaired the Energy Policy Subcommittee.
Ohio State University
Dr. Fujita was appointed to the OSU and the Wexner Medical Center Boards of Trustees in 2016. He serves on its Academic Affairs and Student Life and Audit and Compliance committees and chairs its Talent and Compensation and Governance Committee.
U.S.-Japan Board of Councilors
Dr. Fujita was admitted to the U.S.-Japan Board of Councilors in 2017. It's distinguished Board of Councilors consists of leaders who are recognized for their life-long contribution and commitment to strengthening U.S.-Japan relations. Their expertise guides the Council's mission and activities.