Canon Inc. Acquired QED Majority Interest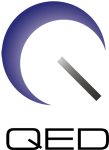 FOR IMMEDIATE RELEASE
 Contact David Hertz
330.697.8856
Quality Electrodynamics (QED) Sells Majority Ownership Interest to Canon Inc.
Mayfield Village, OH, October 31, 2019 — Quality Electrodynamics, LLC (QED), headquartered in Mayfield Village, Ohio, announced today the sale of 70% of its ownership interest to Canon Inc. (Canon) headquartered in Tokyo, Japan. QED will become a consolidated subsidiary of Canon but will retain its name, independent identity and location in Mayfield Village.
QED is a leading diagnostic imaging company in the development of RF coils, an essential device in magnetic resonance imaging (MRI) equipment. QED provides innovative products to leading original equipment manufacturers and researchers around the world. QED is a 2019 recipient of U.S. President's Exporting Award ("E Star" Award).
Canon, under Phase V of its Excellent Global Corporation Plan, aims to embrace the challenge of new growth through a grand strategic transformation that entails reinforcing existing businesses as well as strengthening and expanding new businesses. As part of this, Canon has designated its medical business as a new business that will expand and drive future growth. The acquisition of QED furthers this strategy.
Dr. Hiroyuki Fujita, CEO of QED, who will remain in that position and continue to hold the minority ownership interest in the entity, comments that, "QED has grown significantly over the years because of our technical expertise, ability to understand and deliver on customer needs swiftly, and the immense commitment of our QED team to innovation. Now that we can access Canon's state of the art imaging and electronics technology, it will provide a new platform for QED to keep innovating, which is our lifeline." Dr. Fujita will also serve as CTO for Canon Medical Systems' MRI Division.
Dr. Fujita is the inaugural Honorary Consul of Japan for Northeast Ohio and has been involved within the community. He currently serves on the boards of The Ohio State University, the Cleveland Foundation, the Cleveland Clinic Hillcrest Hospital, the Cleveland Orchestra, and the Greater Cleveland Partnership, among others. Dr. Fujita, QED and Canon are committed to continuing civic involvement in the region.
"This new relationship is a tremendous opportunity for QED and its 175 associates to continue to add new customers and products and will further drive QED's growth and employment levels in northeast Ohio," stated Albert B. Ratner, a current and continuing QED Board member. "The significant support we have received over the years from Mayfield Village, Jobs Ohio, the State of Ohio and Cuyahoga County has been key to our success."
QED's inclusion in the Canon Group strengthens and accelerates its ability to explore and innovate new medical devices and MRI technologies in pursuit of enhanced patient care and comfort. Their combined management and technological resources will empower both companies to increase their market competitiveness and expansion. Canon Inc. Chairman & CEO Mr. Fujio Mitarai, and President and CEO of Canon Medical Systems Corp. Mr. Toshio Takiguchi have pledged their full commitment for QED to remain and grow in northeast Ohio.
About QED: Quality Electrodynamics (QED) was founded in 2006 by Dr. Hiroyuki Fujita with a vision to revolutionize medical imaging through advanced technical innovation in clinical diagnostic equipment. QED innovates new magnetic resonance imaging (MRI) technology for radiofrequency (RF) coils/antennas. MRI RF coils are non-invasive medical devices that facilitate the collection of diagnostic images with MRI machines. QED leads the development and creation of cutting-edge, cost-effective technology solutions for leading MRI original equipment manufacturers (OEM).
###