Siemens Overall Performance Supplier Award Granted to QED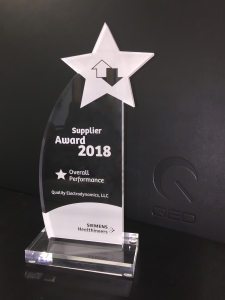 Quality Electrodynamics is proud to announce that it has earned the Siemens Healthineers Overall Performance Supplier Award for exceptional suppliers.
The Overall Performance Award is presented annually to the Siemens Strategic Supplier who demonstrates outstanding performance in Logistics, Innovation, Collaboration, Quality and Overall Scoring.   QED earned very high ratings of over 90% in each of these categories as well as the overall score.  The Siemens supplier evaluation team noted that QED is extremely responsive to their concerns, is consistently recognized as an innovative partner, and is always willing to put in additional efforts to achieve superior results and exceptional quality.
In particular Siemens was very appreciative of the very short development timeline and quick FDA approval of the 3T g-ZERO blanket coil.  This extraordinary effort enabled Siemens to introduce this latest innovation at RSNA 2017 and provided Siemens with a very competitive marketplace advantage.
The Overall Performance Award was presented by Mr. Volker Purschke, CPO Siemens Healthcare at Siemens Healthineers Supplier Day in Erlangen (Germany) on 19 June 2018.   Dr. Labros Petropoulos, VP of Engineering, and Mr. John Schellenberg, VP of Customer Programs and Logistics, represented QED at this event and accepted this honor on behalf of Dr. Hiroyuki Fujita and QED.