Expansion Doubles QED Footprint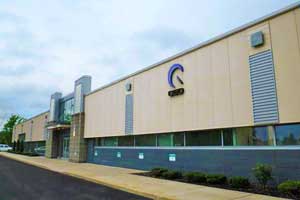 QED announced plans to expand its workspace to 77,000 square feet which more than doubles its current footprint at 700 Beta Dr.  QED will relocate nearby at 6655 Beta Drive, converting a former warehouse to a high tech magnetic resonance imaging innovation and manufacturing facility.
Mayfield Village Planning Commission unanimously approved the planned renovations, clearing the way for QED to begin the site transformation.  Significant interior renovations will be made to ready the site to become an advanced medical device manufacturing facility of magnetic resonance (MR) imaging devices.   In addition to its manufacturing activities, the site will also house QED's innovation engineers to advance the science of MR imaging.  It also has reserved an additional 14,000 square feet at 6655 for future growth.
This move marks QED's third expansion site in Mayfield Village, beginning operations at 777 Beta Dr in 3,500 square feet in 2006 before moving across the street to 700 Beta.
Dr. Hiroyuki Fujita, QED's Founder, President & CEO believes that Mayfield Village is a perfect place to grow his business as part of the Cleveland MedTech corridor. It's location is convenient to the area's advanced medical and research centers including The Cleveland Clinic and Case Western Reserve University.
Read Expansion Coverage in the News at:
http://www.cleveland.com/hillcrest/index.ssf/2015/06/qed.html