Orchestra Appreciation Shared – Hiroyuki Fujita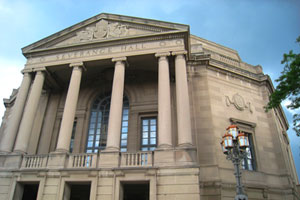 The Cleveland Orchestra will celebrate its 100th birthday in December 2018 and with the start of the 2017-18 season in September 2017, it will embark on a Second Century of musical excellence and commitment to the Cleveland community.  Dr. Hiroyuki Fujita, Musical Arts Association Trustee shares his perspective of the Orchestra in the video below on the eve of the Orchestra's second century.  Housed in the legendary Severance Hall, The Cleveland Orchestra's music resonates in near-perfect acoustics.
Franz Welser-Möst has been Musical Director since 2002 and led the Orchestra to recognition in 2015 when The New York Times declared Cleveland to be the "best American orchestra" due to its virtuosity, elegance of sound, variety of color, and chamber-like musical cohesion.  In 2012 "Gramophone Magazine" recognized it as one of the top ten orchestras in the world.  It is known as one of the "Big Five" American orchestras along with The New York Philharmonic, The Boston Symphony, the Chicago Symphony and The Philadelphia Orchestras.   In addition to performances at Severance Hall, the Orchestra also presents the annual Blossom Music Festival at the Orchestra's summer home, Blossom Music Center in Cuyahoga Falls.
The Cleveland Orchestra also has a residency in Miami, Florida and performs both nationally at Carnegie Hall and abroad in cities including Vienna, Paris, Milan and Munich. As part of two international tours during the 2017-18 season, in May 2018 the Orchestra will travel to Tokyo for performances featuring the complete Beethoven symphonies as part of Welser-Mösts's "Prometheus Project."
Dr. Fujita feels especially fortunate to have the opportunity to serve this very special American gem.